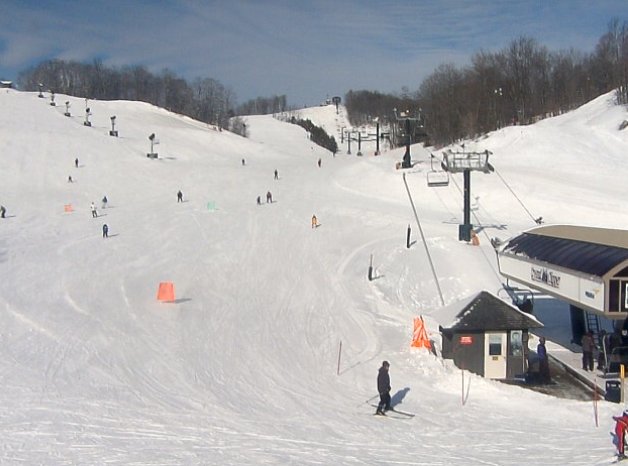 Fueled by frigid overnight temperatures, our snowmaking fleet poured on the flakes last night to brush the slope canvas with more midwinter white. A slow warm-up today should make skiing and riding very pleasant on 58 runs, where machine groomed conditions prevail. Lift hours are 9am-4:30pm
Terrain park fans – Features on Jester's Alley include a 10ft. rainbow box, 16ft. T-box, 20ft T-box, 12 ft. down rail and 16ft dance floor. In addition to the quarter pipe, Little Vincent has 15ft and 20 ft jumps. Basin Street features a 16ft C-box, 20ft flat box to a 20ft down box, 20ft flat up flat box, 30ft flat down flat, 21ft down rail, tall 20ft double barrel, 20ft whoop rail, 16ft flat bar, 20ft park bench, 30ft down rail, 20ft tower tube, 20ft propane tank, and 15ft propane bonk
Lift hours:
Mon-Tue: 9am-4:30pm Wed-Sun:9am-9pm
President's Week: 9am-9pm daily Feb. 19-25
New Snow: Snowmaking overnight
Base: 43-62
Lifts: 5 Lifts, 2 Carpets
Runs: 58
<>
Visit Crystal Mountain Website >>>>
<>
Crystal Mountain On Facebook
Below are the latest postings from the Crystal Mountain Page On Facebook.
<>
Friday February 16th, 2018 - 1:33 pm
It is with heavy hearts to share that our friend, the legendary Lou Batori has passed away at age 107. Please keep he and his late-wife Judith's family in your thoughts and prayers. Lou's legacy is not in the number of years he lived but the passion and gratitude in which he seemed to live each moment. He inspired and enriched our lives and will be greatly missed. ... See MoreSee Less
When is he going to get a trail named after him?
Such an amazing man. The time we spent interviewing him this past January will be an experience I will never forget.
Lou and my grandfather (who skied until he passed away at 94) were the best of friends. Some of the greatest memories of childhood and beyond are of trying to beat him racing down the mountain. Over 30 years of ski memories together. What a blessing it was to spend one last day together a few weeks ago and introduce him to our 5 month old son who had just skied his first run earlier that day at Crystal. 107 and 5months old... Ski buddies.
Thank you Loui , for TIME well spent will never be forgotten in love !!
Lou will be missed on the slopes of Crystal but is surely skiing perfect corduroy hills right now!
What an amazing, positive man. I am honored to have gotten to meet him.
I feel honored to have met Lou and Judith several years ago at Crystal Mt. Both lovely people. A life well lived.
I hope they are all now leaving snow trails on the best celestial slopes ever! We miss you. God speed. Bonnie
So many memories of this man. My Dad still talks about him all the time. Rest easy.
RIP Lou. You've been a role model to so many. God speed.
Prayers to his family ❤️ A true inspiration.
With more love and respect than I can ever convey. Be well, Lou and hug Judith for me. Xoxo
He lived a rich and passion filled life . ❤️
RIP Lou....such an inspiration. Cherish the great times with loved ones!
Awww, I was in awe of him when I worked there 16 years ago! God bless.
Lou will be greatly missed but not his legacy and his zest for life. I'm honored to have known him.
Such an inspiration! Our thoughts are with his family and friends.
Awww, R.I.P. Lou! I like the idea of naming a trail after him.
ski on in paradise Lou..!!! 🙏❤️🍻
What an interesting and inspiring man! He will be missed.
Lou embodies all the good in northern Michigan.
RIO Lou ... a life well lived. Love his quote
I enjoyed seeing him out on the hill!!
Load more
<>
Visit Crystal Mountain Website >>>>
<>
Upcoming Events at Crystal Mountain
<>
Visit Crystal Mountain Website >>>>
<>